Study Manager – Wind Energy m/f
Driving force behind the successful development of wind farms.
Qualification(s) Bac +4, Bac +5,
Objectives
As the driving force behind the successful development of wind farms in their region, the Study Manager will :
Intervene from the identification of sites, to the pre-construction via the filing of environmental permit applications;
Ensure and coordinate all stages of development of the wind farm projects entrusted to him or her;
Work in tandem with a land manager (prospecting/securing).
To ensure the cartographic prospection and to identify the potential zones of establishment;
To lead and coordinate the external providers on studies of impact, environmental, landscape and acoustic;
To initiate the dialogue withal involved stakeholders (communities, administration, elected officials, owners, population, associations, residents, etc.).
Required qualities
A good team spirit, interpersonal and writing skills, real convictions in the development of renewable energies. Autonomy and thoroughness are necessary to flourish in this position.
Required experience
One to three years of experience, ideally acquired in renewable energy development, for example with a developer, energy company, or in a design office.
Educational background
Ideally, you have a 4/5 year degree (engineering school, DESS, Master's degree) in environment, geography or regional planning. Good knowledge of GIS (preferably QGis).
It's my job
After four years in a design office making my expertise available to stakeholders in land use planning and energy, I joined Volkswind in May as a design manager. I work in a dynamic team in charge of onshore wind power development where my experience is particularly valued in project management and in the management of administrative and regulatory procedures. The position of project manager allows me to understand all the stages of development, from prospecting to construction. I particularly appreciate the teamwork, which is Volkswind's bread and butter, and which facilitates exchanges with elected officials, service providers, government departments and land partners, and which allows projects to be successfully completed.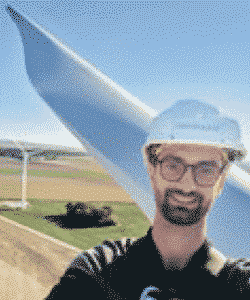 Nicolas Marteau holds a Master's degree in water science -hydrosystems and watersheds.
He then acquired more than four years of experience as a research officer in an environmental design office, before finally joining Volkswind in May 2021.
This offers can interest you